Good Dogs started here, over 20 years ago.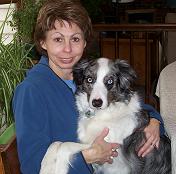 From it's humble beginning in a dog lover's basement to a nationally recognized and respected company in the dog training industry, Narnia has traveled an interesting road. Along the way Narnia has helped tens-of-thousands of area pets (and their humans) live in harmony with each other. Narnia's founder is a charter member of the Association of Pet Dog Trainers and a Certified Dog Behavior Consultant with IAABC. Narnia has developed relationships with leading experts in behavior and has hosted many continuing education seminars to help educate those individuals interested in helping owners and their pets.
Narnia's founder, Sandy Myers puts it best:
I started Narnia in the basement of our house on Lillian Ct in Naperville. As people began to hear about what I was offering (a kinder, gentler way of training dogs), I needed help and asked my friend Riki Kaufman (now Riki Koelling) to join me. She agreed and we were off and running. I was very grateful to her and we had fun with this new adventure. In 1991, I incorporated and choose the name Narnia because I loved the message in the children's books The Chronicles of Narnia.
Dagmar Bowles joined our little group handling the phone work and the bookings. I met Karyn Johnson at a Naperville Humane Society event and she asked if she could watch, learn, and join us on our journey. As more clients requested classes we moved out of the basement and into our first training space on Clow Creek Road. As time went on I asked Joy Rittierodt, Pat Rattray, Kathie Hayes and Dana Nelson to join the Narnia family. We all did this because it was (and for some still is) a passion, everyone knew they would never get rich. Narnia gained in popularity and we added staff. Some staff moved on and we appreciate the contributions they made to Narnia. Staff member's' children joined our group. Molly Myers and Angela Johnson learned from us and became instructors. We even were lucky enough to get help from Joy's sons to keep Narnia clean. This truly was a family affair.
As with all things, change must occur and in 2005, I sold Narnia to Kathie Hayes, Sara Swan, and Angela Johnson-Murray. It was one of the hardest things I have ever done. When you pour your heart and soul into something, it is very hard to let it go. But I am so very proud that Narnia still represents education and gentleness to owners and their dogs: may it go on for a very very long time.
Sandy Myers
We're here thanks to you.
This year (2010) Narnia celebrates its' 20th year in business. Thank you, our loyal customers, for being with us all the way. Many of you started with us 20 years ago and are back with your second or third generation of pets. We welcome the privledge to serve our community with the knowledge and integrity that Narnia was founded on and continues to strive for.