Laura Monaco Torelli, CPDT-KA, KPA CTP, TAGteach Level 2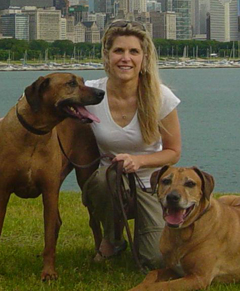 Laura is certified in the following: CPDT-KA, KPA CTP, TAGteach Level 2 Instructor, Operation Socialization Certified Trainer (OSCT).
Laura is the founder of Animal Behavior Training Concepts (ABTC). She and the company's training team work in collaboration with clients and animal health professionals to provide high-quality care for the animals in their lives. ABTC focuses on "Inspiring Compassionate Animal Care through Positive Interactions." Force-free training principles and guidance are provided through seminars, interactive groups, and individual sessions. Laura and her training team enjoy sharing the many wonderful benefits of positive reinforcement training with various species of animals.
Laura began her professional animal training career in 1991, with the John G. Shedd Aquarium in Chicago. As a senior lead trainer, she trained beluga whales, dolphins, sea otters, seals, river otters, and penguins. In 2000, Laura moved from marine to terrestrial animals, working for the San Diego Zoo and Brookfield Zoo as a supervisory keeper. She has trained a wide variety of species, including primates, large cats, birds of prey, horses, parrots, macaws, tree kangaroos, red pandas, and dogs, while in the zoological community. Laura's experience with horses has provided numerous opportunities to teach them to cooperate in their daily care.
Laura's belief is that training should be fun, exciting, and educational for both the people and their animal companions. Her unique professional background, which encompasses animal training, public and outreach programs, and educational seminars, allows her to create a dynamic and engaging environment for each client class. Laura's personal philosophy and unique skills keep her clients coming back for more training.
In August of 2008, Niabi Zoo (Niabi Zoological Society) invited Laura to be their animal training and behavior consultant, bringing her career full-circle and back to applying positive reinforcement training with exotic species. She is collaborating with Niabi Zoo staff, focusing on training programs with the primates, large cats, Arctic foxes, and reticulated giraffes.
The APVMA (American Pre-Veterinary Medical Association) invited Laura to speak at the 2009 symposium, hosted by the University of Illinois College Of Veterinary Medicine in Champaign-Urbana, and the 2010 symposium hosted by Purdue University. She presented papers and provided interactive hands-on labs for students to learn about positive reinforcement, marker-based training. Laura has presented at numerous professional training conferences for the International Marine Animal Trainer's Association Regional Meetings, The Animal Behavior Management Alliance, Interdisciplinary Forum for Applied Animal Behavior, and Western Illinois University's Zoo & Aquaria Graduate School Program students.
Her continued collaborations include a partnership with Illinois Veterinary Behaviorist Dr. John Ciribassi and Animal Behavior Partners. She is also staff at Chicagoland Veterinary Behavior Consultants.
Laura serves as Karen Pryor Academy faculty. She holds a TAGteach Level 2 Certification, and is studying for her graduate degree in biology. Laura continues to volunteer for the Shedd Aquarium as a SCUBA diver for the Wild Reef exhibit and also volunteers as a Doggone Safe "Be A Tree" presenter. She also successfully completed the Purdue University Animal Behavior Clinic's DOGS Course.
She has been featured on WGN Midday News and NBC 5 Chicago News in addition to radio talk shows with WGN's Steve Dale's Pet World & Susan Frank's Wild About Pets, and in the Quad-Cities Online Dispatch-Argus. She has written numerous training articles for Karen Pryor Clicker Training. Tails Pet Media Group has also invited her to provide "Ask The Trainer" Tips.
Laura and her husband share their lives with spirited, energetic, and entertaining Rhodesian ridgebacks and lively cats. She is a certified Operation Socialization Certified Trainer (OSCT).