Kathy Sdao, CAAB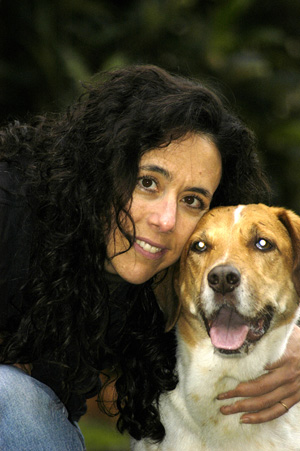 As an associate Certified Applied Animal Behaviorist (CAAB), Kathy Sdao is uniquely qualified to work with dog training and behavior problems. Unlike "dog trainer," "dog psychologist," or "behaviorist," titles that anyone can give themselves, a CAAB is a certified professional with a graduate degree in an animal behavior field.
For the past 21 years, Kathy has earned her living as a full-time animal trainer, first with marine mammals and now with dogs and their people. As a graduate student at the University of Hawaii in the 1980's, Kathy Sdao was part of a team that trained dolphins to solve complex cognitive puzzles. These dolphin "mind games" were part of intensive research into how animals think and process language. After receiving a master's degree in experimental psychology, she was hired by the U.S. Navy to train dolphins for defense-related open-ocean tasks.
Next, Kathy worked as a marine mammal trainer at the Point Defiance Zoo & Aquarium in Tacoma, Washington. There she expanded her training skills by working with beluga whales, walruses, porpoises, sea lions, polar bears and otters. Years later, Kathy and another zookeeper left their jobs to create Tacoma's first dog daycare facility, Puget Hound Daycare. This is where Kathy began teaching group classes for pet owners.
Since leaving Puget Hound in 1999, Kathy has been lecturing nationally on operant conditioning, sharing her passion for the science of training and the awesome power of clicker training which she has experienced with so many species. She has been honored to be on the faculty of Karen Pryor's ClickerExpos since 2003. She also has trained animal actors, written for The Clicker Journal and the APDT Newsletter, served as a subject-matter expert for the Delta Society's Service Dog Education System, conducted rat-training camp for Terry Ryan's DogSense, instructed at Dogs of Course's Instructor Training Course and appeared as the "Way Cool Scientist" on an episode of Bill Nye the Science Guy!
Kathy lives in beautiful Tacoma, Washington with her two rescue dogs: Effie, a sweet yet intense foxhound, and Nick, an Aussie-cross that came to her with serious aggression problems.