Grisha Stewart, MA, CPDT-KA, KPACTP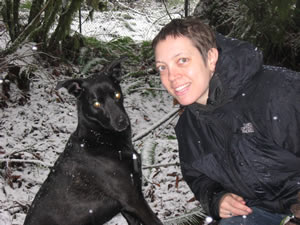 Grisha Stewart specializes in dog aggression at her facility in Seattle, Ahimsa Dog Training, which has been voted Best of Western Washington. "Ahimsa" is a Buddhist doctrine of nonviolence to all living things, which reflects Grisha's focus on force-free methods to promote the well-being of dogs and their humans.
Grisha has a Master's in Mathematics from Bryn Mawr College. She is now pursuing a Master's in Psychology with an emphasis in animal behavior at Antioch University, while still running her 8-trainer business and doing private consults for aggression cases. Her first career as a theoretical mathematician and college instructor serves her well in dog training and behavior consultations, because she relies heavily on the problem solving, critical thinking, and teaching skills she gained in that field. Since founding Ahimsa Dog Training in 2003, she has found her canine and human students to be much more excited about learning than her college students!
Canine behavior fascinates Grisha and she is highly motivated to help improve our techniques for rehabilitating and training dogs. This led her to develop BAT, Behavior Adjustment Training, which uses environmental consequences to reward the dog and eliminate problem behaviors.