Patricia McConnell, PhD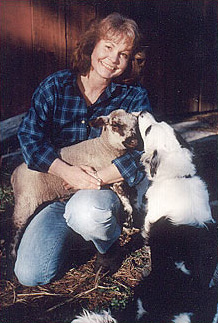 Patricia McConnell received her Ph.D. in Zoology from the University of Wisconsin-Madison researching dog behavior and communication between professional trainers and working domestic animals. She is currently the owner of Dog's Best Friend Ltd., and Adjunct Associate Professor in Zoology at the University of Wisconsin-Madison, teaching "The Biology and Philosophy of Human/Animal Relationships."
Co-host of Wisconsin Public Radio's "Calling All Pets," Dr. McConnell gives advice about behavior problems on over 100 radio stations across the country. She is the behavior columnist for the BARk magazine ("the New Yorker of Dog Magazines") and a Consulting Editor for the Journal of Comparative Psychology. She is the author of the much acclaimed book "The Other End of the Leash," as well as a highly respected series of booklets on the treatment of behavioral problems. McConnell is a sought after seminar speaker, giving seminars and speeches about canine and feline behavior around the world.
Patricia has four dogs, one confident cat and a very spoiled flock of sheep on a small farm in Southwestern Wisconsin. Her three Border Collies keep her outside and active, and her Great Pyrenees, Tulip, keeps her humble. Trisha suffers from Separation Anxiety each time she leaves her dogs at home when she leaves on her numerous speaking engagements around the country.