Terry Ryan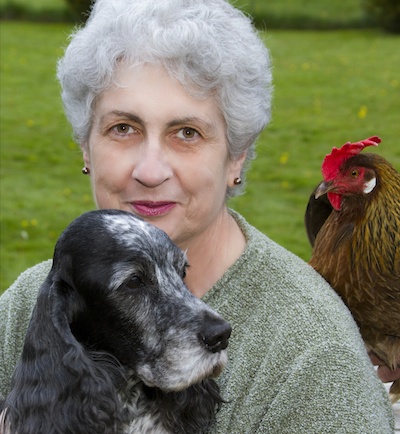 Terry Ryan is the president of Legacy Canine Behavior & Training, Inc., a business started in 1974. Terry has been a community pet dog class instructor since 1968, specializing in motivational exercises, often presented as games. A busy international workshop presenter herself, Legacy regularly hosts camps and seminars taught by well-known dog experts from around the world.
Terry was a chairperson for the American Humane Association's Humane Dog Training Project. The work resulted in a document of humane training standards published by the Delta Society. The document has been endorsed by the San Francisco SPCA and the Association of Pet Dog Trainers. Terry was on the development team and one of six trainers for PetsMart's pet dog training instructor's course. She helped implement this program in PetsMart's 560+ stores throughout North America. Terry began teaching in Japan in 1990 and currently averages 15 weeks per year living in Japan, teaching a variety of dog training programs. She teaches a national dog training class instructor program for the Japanese Animal Hospital Association. She also teaches four times a year and is a director of the Animal Fanciers School (AFC) in Tochigi, Japan. AFC is a private animal shelter which conducts a two-year residential instructor training program. They also teach community classes and events for the dog fancy. In 1995, Terry helped create and still conducts the Japanese Canine Good Citizen testing and passport program that allows entry of qualified dogs into participating national hotels and restaurants.
Terry Ryan taught yearly 5-day instructor's courses for the Animal Welfare League in Australia from 1994 to 1998. She was the Coordinator of the People-Pet Partnership, College of Veterinary Medicine, Washington State University from 1981 until 1994. She has maintained membership and held various offices in local, national and international organizations including past president & board member of the National Association of Dog Obedience Instructors. She is a charter member of the Association of Pet Dog Trainers. Terry is on the advisory board to the Institute of Ethology at the North American Wildlife Foundation at Wolf Park and teaches a week-long workshop there every summer. Terry was one of the first members of the Delta Society, working on a variety of human-animal bond projects and was a Delta Pet Partners Instructor and Animal Evaluator from 1993 until 1996. She has been training and exhibiting her own dogs in obedience, conformation and tracking since 1966. Terry Ryan became an AKC obedience trial judge in 1984, currently on emeritus status.
Terry was a regular contributor to the training column of American Kennel Club Gazette from 1995 until 2002. She is the author of a variety of publications and articles in several different languages on the human-animal bond, behavior, training and dogs in general. Most recently she has written "Games People Play… To Train Their Dogs", 1995, "Life Beyond Block Heeling, 1996; Most recently she has authored "Leadership Education for Anyone with a Dog", 2001, "The Bark Stops Here", 2000, and has produced sound desensitization CD's for puppies and adults. Her latest book is a textbook for instructors, "Coaching People to Train Their Dogs", 2005 all published by www.LegacyCanine. In 1998 Howell published her book, The Toolbox for Remodeling Your Problem Dog." In 2004 Lyons Press published "Outwitting Dogs" (Mortensen, coauthor).
Legacy's Training Center on the Olympic Peninsula in Washington State offers custom workshops, camps and internship programs as well as a variety of community/pet oriented classes. Several instructor's workshops, (approved by the Certification Council of Pet Dog Trainers for continuing education credits), are held on campus regularly and at off-location sites by invitation.